3 days tour from Fes to Marrakech via MERZOUGA (ERG CHABBI):
3 days tour from Fes to Marrakech provided and customized by Morocco Experience Trips.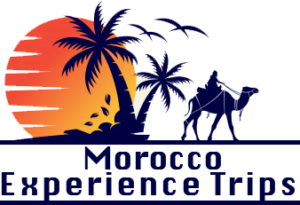 THE 1ST :
FES – IFRANE – AZROU – CEDER FOREST –MEDILT– ERFOUD– RISSANI– MERZOUGA (CAMEL RIDE):
We will begin our 3 days tour from Fes to Marrakech by picking you up from your hotel and then we drive through numerous places until we arrive at the Sahara. The first two cities we will encounter are Azrou and Ifrane, both are small Berber towns. Azrou which means "rock" in Amazigh is mostly loved for its Cedar forest which contains a wide variety of apes and monkeys. Ifrane often called the Switzerland of Morocco is another lovely town loved for its European architecture and its beautiful exotic gardens, it used to be a French resort build in 1929 eventually expanded and became filled with villas, chalets…
As we continue our desert tour we will stop at Midelt to have lunch. And then, proceed through Ziz valley and Ziz gorges. As we drive between Errachidia and Midelt we will drive by a 20 km road overlooking Ziz Valley and some caves carved through cliffs. We will make a short stop at the Hassan Addakhil dam finished in 1921 it supplies water to all the regions of Errachidia. As evening approaches, we will arrive at the hotel to rest and travel this time with camel to the nomad tents. We will have dinner in the heart of the desert under the starry sky. And sleep in one of the nomad tents. fes to marrakech

THE 2ND DAY:
MERZOUGA – TODRA GORGES – DADES VALLEY–ROSE CITY–SAKURA–OURZAZATE:
Make sure to wake up early to watch one of the best sunrises in one's life. We will return to the hotel, shower, and have breakfast. Then we will drive to Rissani, Erfoud, and Todgha gorges through the road of the thousand Kasbahs. The later extends between Merzouga and Ouarzazat, along the road you will be able to gaze at the peaks of mountains and palm groves.
We will stop at Todraa gorges, which is another formidable place to visit; its famous reddish rocks change color through the day. Its gorges are narrow and high. Our next destination will be Boulmane Dades, started by as a small town and it grew to what it is today, by the second half of the 20th century. It contains the holy shrine of Sidi Daoud. And through the limestone cliffs, we will drive to Dades gorges where we will stay and have dinner at. fes to marrakech

THE 3RD DAY: 
OURZAZATE–AIT BEN HADDOU–TIZNT TISHKA–MARRAKECH:
You will start off today's activities with a yummy delicious breakfast among the breathtaking mountains. After rejuvenating we will drive to Rose valley and Kalaat Mgouna a city famous for its flower products and the annual ceremony in which they celebrate their harvest. It used to be a French colony for administrative aims and held banks. We will also stop at Skoura Oasis connected to Oued Idelssan around it an exotic garden with giant palm trees, olive trees, and wheat. As we continue we will stop at Amerdil Kasbah, the largest Kasbah in Skoura. The last also has two more Kasbahs built by the Glaoui family one of the pure and oldest families to exist in Morocco. We will have lunch in Ait Benhaddou and then we will return to Marrakech by evening. Finally, we end our 3 days tour from Fes to Marrakech.

Services included in the price:
Tour in 4×4 vehicle or minibus with A/C; depending on  your choice and the group size
Driver/Guide
Fuel
Hotel overnight stays (breakfast & dinner included)
Camel ride, a camel per person (only in the desert tours)
night in desert camp (only in the desert tours)
NOTE:
If the itineraries that we offer does not match what you're looking for, contact us and we will customize a trip to your needs and requirements
THE PRICES
THE PRICES depends on the accommodations, number of Persons, and transportation type. Feel Free to Contact Us.