5 DAYS FESTO MERZOUGZA DESERT TOUR
 Fes to Merzouga tour provided and customized by Morocco Experience Trips.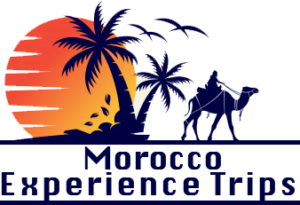 The, we wil THE 1ST :
FES – IFRAN –MEDILT-ERFUD– MERZOUGA DUNES
We will pick you up from Fes, then we head on our Fes to Merzouga tour towards Ifran the Switzerland of Morocco, then we will go to the Cedar forest in Azrou where there is a wide variety of monkeys and apes. We will pay a visit to Midelt, we will have lunch in a decent restaurant and then we will continue our journey while observing the striking beauty of Ziz valley and the land of dates and fossils "Erfoud". Then we will be arriving at our final destination for today "Erg Chebbi " or you might as well call it Merzouga Dunes. We will stay the night in Merzouga and have supper.
THE 2ND DAY:
MERZOUGA -ERG CHEBBI TOUR:
As the light of day strikes, we will be wandering around the desert, we will explore the secrets of desert wildlife, we will head towards El Khamlia, dance to rhythms of Gnawa music, we will make a quick stop at both the oasis and the village. We will return to the desert to have a mint tea and relax to soulful music. prepare yourself we will be riding camels for almost an hour, you will enjoy seeing the sunset reflected upon the tops of sand mountains .we will stop at a nomad tent to spend the night there under a sky full of stars.
THE 3RD DAY: 
ERG CHBBI – RISSANI – TODRA GORGES:
Make sure to wake early so as to have a soulful moment under a sky colored with shades of red and yellow and above perfect sand dunes. Today we will have a special kind of breakfast to kick off the day right, and then we will drive to Rissani, It was built in 757 by the Arab leader Moussa Ben Nasser; it is a very important trade center as it connects the routes between Niger and Tangier. Its inhabitants used to trade with valuable means like gold.
Next on our Fes to Merzouga tour, we will also visit the ruins of Moulay Ismail Kasbah. Also, the Alaouite dynasty which is the current ruling family originates from Rissani. We will visit the famous souk that opens only Tuesday, Thursday, and Saturday, you can pick some beautiful souvenirs for you. The beauty of Toudra Gorges will strike you. You will surely have the chance to roam and wander in this magical and mysterious landscape, even have one delicious lunch with your beloved ones or one, after that we will hit the road to the Dades valley.
THE 4TH DAY: 
DADES VALLEY-SKURA-URZAZATE:
You will start of today's activities with a yummy delicious breakfast among the breathtaking mountains. After rejuvenating we will drive to Rose valley and Kalaat Mgouna a city famous for its flower products and the annual ceremony in which they celebrate their harvest. It used to be a French colony for administrative aims and held banks. We will also stop at Skoura Oasis connected to Oued Idelssan around it an exotic garden with giant palm trees, olive trees, and wheat.
As we continue we will stop at Amerdil Kasbah, the largest Kasbah in Skoura. The last also has two more Kasbahs built by the Glaoui family one of the pure and oldest families in Morocco. Then, we will reach Ouarzazate the dinner and the overnight would be there.
THE 5TH DAY: 
OUARZAZATE – AIT BENHADDOU – HIGH ATLAS – MARRAKECH
Today's main stop is the one and only Ouarzazat the African Hollywood, if you're interested enough we will be having a special tour in the cinema studios and the cinema museum in case there's no shooting. It is where many international movies were shot like Hideous Kinky, Gladiator, and The last temptation of Christ, Babel, and Alexander the Great.
We will also stop at Taourirt Kasbah founded in the 19th century; it gained recognition when the Glaoui family chose it as a home for them. We will then stop at Ait Benhaddou Kasbah a UNESCO worldwide heritage site. The place's fame has spread far and wide through international movies.  We will surely drive by the High Atlas Mountains and Tizi nTichka pass 2260m. And as the afternoon comes we'll be in Marrakech. Then, we shall end our Fes to Merzouga desert tour.
Services included in the price:
Tour in 4×4 vehicle or minibus with A/C; depending on  your choice and the group size
Driver/Guide
Fuel
Hotel overnight stays (breakfast & dinner included)
Camel ride, a camel per person (only in the desert tours)
night in desert camp (only in the desert tours)
NOTE:
If the itineraries that we offer does not match what you're looking for, contact us and we will customize a trip to your needs and requirements
THE PRICES
THE PRICES depends on the accommodations, number of Persons, and transportation type. Feel Free to Contact Us.