5 Days Marrakech to Merzouga tour
Marrakech to Merzouga tour provided and customized by Morocco Experience Trips.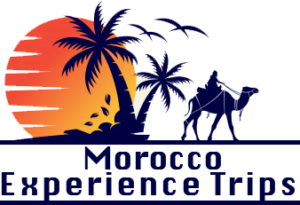 The 1st : Marrakech –Ourzazate –Dades Gorges
As our first day of this Marrakech to Merzouga tour begins, we'll be setting off from Marrakech towards the roads of dades gorge. We'll be passing by High Atlas Mountains you'll be able to see their overwhelming peeks, then by the Tizi n Tichka, which is a mountain pass that is famous for its altitude and its breathtaking landscapes.
We'll be stopping by the 17 th century village Benhadou Kasbah. It serves now as a filming location for several international movies. Our route continues with us driving over the roses valley, famous for its festivals. There will be a quick stop at both villages skoura and Kelaa Mgouna. Last but not least we'll be arriving to the Boulmane Dades, where we will be having dinner and breakfast and of course stay for the night. marrakech to merzouga
The 2nd day: From Dades Gorges to Merzouga
Today's ultimate destination of our Marrakech desert tour is Merzouga Sahara Desert, the favorite spot of every desert traveler, why? First of all it's called the Erg chebbi. Second, its dunes are the highest , it's about 20 km long and 5km vast, We're talking about a sea of golden sands, and among this wretched grounds there's life, there's blue in extravagant oasis such as the Tinjdad one.
We'll be witnessing all of that and more. We'll be stopping by Berber outskirts like Mellab, Touroug and Rissani where we will have lunch. After resting for a while, we'll, take off again though the giant palm trees of Ziz Tafilalt and the Black Hamada until we arrive to Merzouga Desert. A quite peculiar Riad is waiting to receive us just a few steps away from the dunes of sands. You'll be having special baths in warm waters , and have a quite delicious dinner and dance to Berber music.marrakech to merzouga
The 3rd Day: 4×4 Desert Tour Erg Chabbi
Our wonderful day will have started by rising and shining to witness the uncanny view of the sun while its rising, which would be one of the lovely vision you will have seen in your entire life. Then, we will visit the Berber home to enjoy some of Gnawa's music, which is originally from Ghana and Soudan. We will go to some deserted mines.
After relaxing, we will hit the road through the dunes by driving Camels. And we are going to continue till we reach the middle of Sahara, where you will be free to take some remarkable pictures. Finally, we will arrive to the camp to climb to the higher dunes  to witness again the sun while it setting. We will spend the night over . marrakech to merzouga
The 4th Day: Merzouga- Ouarzazate :
As soon as the sun rises, and as soon as the drifting breeze of quiet mornings hits you, make sure to get up and witness a glorious moment that is willing to leave you breathless you can exercise your photography skills, as there might not be another chance. If you're done, we'll be returning back to the hotel, take shower and have a quite yummy breakfast. Then, we set off again towards Ouarzazat this time we'll be driving by Anif, Tazzarine, Nkob and the Draa valley. Then, We will spend the night in a guest house at Ouarzazate. marrakech to merzouga
The 5th Day: Ouarzazate – Marrakech :
we'll deploy away from Ouarzazat early in the morning towards Marrakech. We'll pass by reverse landscapes of the High atals mountains here's a fact its peaks that resemble monkey fingers. Then, we'll be driving by the Tizi n Tichka again in which we'll be gazing at magnificent views of of rivers, valleys and many Berber villages. As the night starts to fall, we'll be found in Marrakech the Red city. There we will end our Marrakech Sahara tour.
Services included in the price:
Tour in 4×4 vehicle or minibus with A/C; depending on  your choice and the group size
Driver/Guide
Fuel
Hotel overnight stays (breakfast & dinner included)
Camel ride, a camel per person (only in the desert tours)
night in desert camp (only in the desert tours)
NOTE:
If the itineraries that we offer does not match what you're looking for, contact us and we will customize a trip to your needs and requirements
THE PRICES
THE PRICES depends on the accommodations, number of Persons, and transportation type. Feel Free to Contact Us.